The application, free and developed in Russia, has become very popular in recent days thanks to its automatic retouching of photos, allowing to see with 60 years more.
Many celebrities, but also anonymous, lend themselves to the game to show what they could look like by being sixty years older. After the filter that made it possible to transform a boy into a girl, or conversely, proposed by Snapchat and popularized in the spring, here is the filter to get old, FaceApp, whose examples are spreading in recent days like wildfire on Instagram, Facebook and Twitter.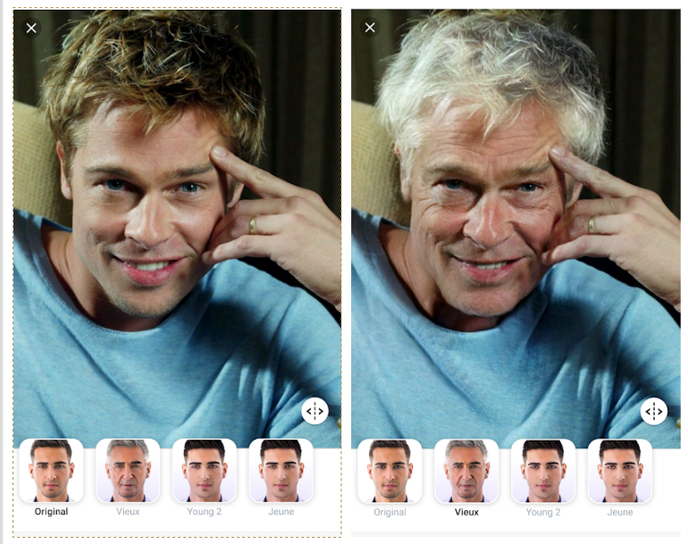 1 - What is it exactly?
This selfie filter that ages the face is offered by the application FaceApp, available on AppStore and PlayStore. The application was, notes The Huff Post, topping the rankings of the most downloaded applications on iPhone and Android.
FaceApp is not a new application. Developed in Russia by a small team based in St. Petersburg, it was released on January 2017. It already proposed a filter to get older, in addition to other filters that have also had some success, such as the one that allows adding a smile to a face ... The application has already sparked viral games, like to make their smile to old paintings. The very recent renewal of interest for FaceApp seems to start from a "FaceApp Challenge" fed by celebrities who, taking the game, have posted photos where they are aged.
FaceApp has also made itself known for having, the year of its launch, caused a scandal: with its filter to make people more "hot", the application sometimes whitening the skin of black people on their selfies. Accused of racism, those responsible for the application eventually removed the filter in question.
2 - How does the app work?
FaceApp is a confusing simplicity, with a basic interface to retouch selfies through pre-established filters, then save them or share them in other applications. If FaceApp is available for free, then you have to pay to use it without advertising and have all the filters offered (about 20 euros per year, or 4 euros for a month). But the basic filters, like the one that allows you to age your face, are free.
To work, FaceApp applies automatic changes to the photo of a face. These images can be taken with the selfie function of the application, be found in the photo gallery of the user's smartphone (if he has given access) or by searching on the Internet, thanks to an engine integrated search, which also offers to find faces of celebrities.
Unlike what has been said, FaceApp online does not automatically download all your photos to its servers without you knowing it. It does not have access to all the photos of a smartphone without the explicit consent of the user, according to specialized sites TechCrunch and The Next Web who dissected the operation.
On the other hand, once the photo to modify selected, FaceApp loads it on its remote servers. It is then in its cloud environment that FaceApp makes the desired changes to the face - which is why the application does not work if you do not have a 3G or Wi-Fi network.
These touch-ups take place thanks to the software of "automatic learning", which works thanks to technologies, qualified a little pompously of "artificial intelligence". To sum up more prosaically: from the many images compared and modified by FaceApp software in the past, they have learned to reproduce similar changes in the photos you send him and to adapt them to the best. The more retouched photos with FaceApp, the better the results will be in theory.
3 - What happens after my photos?
This is one of the main concerns, as some people have rightly read the terms of use of FaceApp face this sudden return of "  hype s". Dating from 2017, they are available in two separate pages, which are unfortunately not accessible from the application, according to our observation, under Android ( "Privacy Policy" FaceApp and "Terms of Use" ).
They are quite clear: by loading a photo and applying a filter through FaceApp to share it with your friends or on your social networks, you give in to the company managing the application (Wireless Lab OOO, located in Saint-Petersburg ) the possibility of modifying, reusing or subsequently exploiting the retouched picture in question.
When asked by the TechCrunch site, FaceApp, however, explained that "most of the images stored on our servers are deleted within 48 hours of being sent". The company also said that the 48-hour photo storage for "most" of them, or for some indeterminate time, was done through remote servers located outside Russia, using  Amazon's cloud infrastructure (AWS) and Google.
Still, in absolute terms, the images stored by FaceApp can be used by Wireless Lab OOO to train its software for automatic retouching or build databases with faces of its users. Or, to promote FaceApp from your retouched photos, if ever its employees choose it.