Details

Hits: 2091
WHO has decided that it is "time for the world to take notice" of the epidemic in the DRC, which has killed 1,676 since August 1, 2018.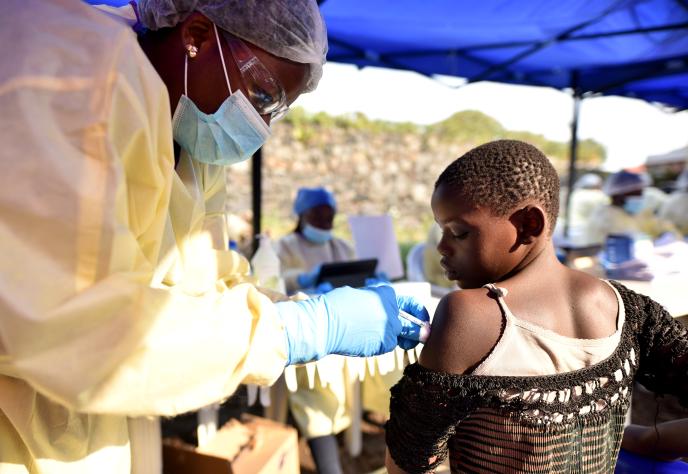 Ebola, declared Wednesday, July 17 as a global health "emergency" by the World Health Organization (WHO) because of the ongoing epidemic in the Democratic Republic of Congo (DRC), is a formidable virus for humans, its epidemics have totalled about 15,000 deaths since 1976.
When did he appear?
The Ebola virus was identified for the first time in 1976 in the Democratic Republic of Congo (DRC, Zaire at the time). This filovirus virus (filovirus) is named after a river in the north of the country, near which the first outbreak erupted.
Five separate "subtypes" of Ebola virus have since been reported: Zaire, Sudan, Bundibugyo, Reston and Taï Forest. The first three are responsible for major epidemics on the African continent.
The virus circulates among fruit-eating bats, considered to be the natural host of Ebola, but they do not develop the disease. Other mammals such as great apes, antelopes or porcupines can convey it and transmit it to humans.
How is it transmitted?
During an epidemic, Ebola is transmitted between humans through direct and close contact. A healthy person is contaminated by the "body fluids" of a sick person: blood, vomit, faeces... Unlike the flu, this virus can not be transmitted by air. Ebola is less infectious than many other viral diseases.
But this virus is formidable because of its very high "fatality rate": it kills on average about half of the people it reaches, according to WHO.
What are the symptoms?
After an incubation period of two to twenty-one days (on average around five days), Ebola is manifested by a sudden fever, with severe weakness, muscle and joint pain, headache and throat and, in some cases, bleeding. Sequelae have been common among survivors: arthritis, vision problems, eye inflammation and hearing problems.
Are there treatments?
There is currently no vaccine or marketed treatment for Ebola, but several leads are being tested. An experimental vaccine was developed as a result of the devastating Ebola outbreak that hit West Africa between late 2013 and 2016, causing more than 11,300 deaths.
A large-scale trial conducted by WHO in Guinea in 2015 showed that it was highly protective, but only against one of the virus strains. The same vaccine is currently used in a targeted vaccination campaign in the DRC where an epidemic has been raging since August 2018.
What other epidemics have we known?
Part of southern Guinea in December 2013, the most violent epidemic in history had made until January 2016 more than 11,300 deaths for about 29,000 cases, according to the WHO. Victims were more than 99 per cent concentrated in Liberia, Sierra Leone and Guinea.
The current outbreak in DRC started on 1 st August 2018 in North Kivu province before spreading. Two cases were recorded in June in Uganda and a first case in July in the country's second-largest city, Goma.
The latest WHO report for this epidemic reports 1,676 deaths for 2,512 cases. This is the tenth epidemic that affects Congolese soil and the second most serious in Africa after that of 2013-2016 in West Africa.
Details

Hits: 4357
The application, free and developed in Russia, has become very popular in recent days thanks to its automatic retouching of photos, allowing to see with 60 years more.
Many celebrities, but also anonymous, lend themselves to the game to show what they could look like by being sixty years older. After the filter that made it possible to transform a boy into a girl, or conversely, proposed by Snapchat and popularized in the spring, here is the filter to get old, FaceApp, whose examples are spreading in recent days like wildfire on Instagram, Facebook and Twitter.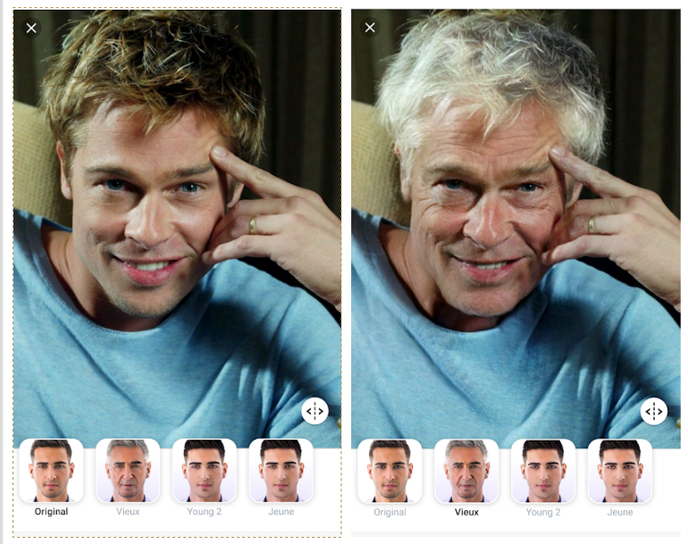 1 - What is it exactly?
This selfie filter that ages the face is offered by the application FaceApp, available on AppStore and PlayStore. The application was, notes The Huff Post, topping the rankings of the most downloaded applications on iPhone and Android.
FaceApp is not a new application. Developed in Russia by a small team based in St. Petersburg, it was released on January 2017. It already proposed a filter to get older, in addition to other filters that have also had some success, such as the one that allows adding a smile to a face ... The application has already sparked viral games, like to make their smile to old paintings. The very recent renewal of interest for FaceApp seems to start from a "FaceApp Challenge" fed by celebrities who, taking the game, have posted photos where they are aged.
FaceApp has also made itself known for having, the year of its launch, caused a scandal: with its filter to make people more "hot", the application sometimes whitening the skin of black people on their selfies. Accused of racism, those responsible for the application eventually removed the filter in question.
2 - How does the app work?
FaceApp is a confusing simplicity, with a basic interface to retouch selfies through pre-established filters, then save them or share them in other applications. If FaceApp is available for free, then you have to pay to use it without advertising and have all the filters offered (about 20 euros per year, or 4 euros for a month). But the basic filters, like the one that allows you to age your face, are free.
To work, FaceApp applies automatic changes to the photo of a face. These images can be taken with the selfie function of the application, be found in the photo gallery of the user's smartphone (if he has given access) or by searching on the Internet, thanks to an engine integrated search, which also offers to find faces of celebrities.
Unlike what has been said, FaceApp online does not automatically download all your photos to its servers without you knowing it. It does not have access to all the photos of a smartphone without the explicit consent of the user, according to specialized sites TechCrunch and The Next Web who dissected the operation.
On the other hand, once the photo to modify selected, FaceApp loads it on its remote servers. It is then in its cloud environment that FaceApp makes the desired changes to the face - which is why the application does not work if you do not have a 3G or Wi-Fi network.
These touch-ups take place thanks to the software of "automatic learning", which works thanks to technologies, qualified a little pompously of "artificial intelligence". To sum up more prosaically: from the many images compared and modified by FaceApp software in the past, they have learned to reproduce similar changes in the photos you send him and to adapt them to the best. The more retouched photos with FaceApp, the better the results will be in theory.
3 - What happens after my photos?
This is one of the main concerns, as some people have rightly read the terms of use of FaceApp face this sudden return of "  hype s". Dating from 2017, they are available in two separate pages, which are unfortunately not accessible from the application, according to our observation, under Android ( "Privacy Policy" FaceApp and "Terms of Use" ).
They are quite clear: by loading a photo and applying a filter through FaceApp to share it with your friends or on your social networks, you give in to the company managing the application (Wireless Lab OOO, located in Saint-Petersburg ) the possibility of modifying, reusing or subsequently exploiting the retouched picture in question.
When asked by the TechCrunch site, FaceApp, however, explained that "most of the images stored on our servers are deleted within 48 hours of being sent". The company also said that the 48-hour photo storage for "most" of them, or for some indeterminate time, was done through remote servers located outside Russia, using  Amazon's cloud infrastructure (AWS) and Google.
Still, in absolute terms, the images stored by FaceApp can be used by Wireless Lab OOO to train its software for automatic retouching or build databases with faces of its users. Or, to promote FaceApp from your retouched photos, if ever its employees choose it.
Details

Written by

Jackie Webster

Hits: 2232
Caitlyn Jenner has made it mainstream to convert from male to female. Modern medical advances have brought us a long way, and the new possibilities are almost endless. Advanced sex hormone therapy, vaginoplasty surgery, and facial feminization surgery can make a male almost unmistakably female.  Additionally, cosmetic surgeries can substantially modify a body to match the desired gender accurately.
Parents are now pushing children to start treatments at early stages in life. Researchers currently do not know where this body and hormonal modification fad will end up. Can this transformation culture lead the way to a sustainable and healthy learning and lifestyle?
Many postop women formally men claim they feel gender-congruent in their transformed bodies. They also claim they and to be able to participate in sexual activity with the newly assigned sexual organs. This ability can directly parallel an individuals ability to be comfortable or passionate in a relationship.
The extent of body modification and feminization now possible by early medical intervention. However, the question to ask is still "what is too far"?
Details

Hits: 1758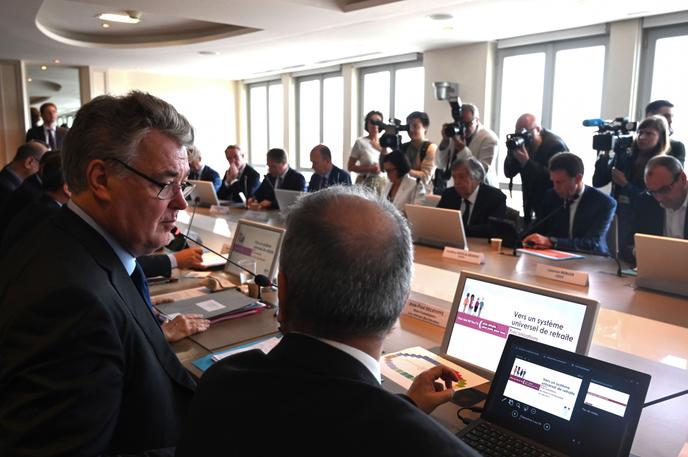 Repeatedly pushed back, the vast construction site of pensions passed, Thursday, July 18, a significant step. After more than eighteen months of consultation with the social partners, Jean-Paul Delevoye, the high commissioner who leads the case, has finally unveiled his recommendations on the future universal system promised by Emmanuel Macron.
The scheme, which will come into force in 2025, is intended to replace the 42 existing plans. After presenting to employers and unions the content of his recommendations alongside Agnès Buzyn, Minister of Solidarity and Health, Mr Delevoye was to submit his report to the Prime Minister, Edouard Philippe Matignon.
These proposals are relatively faithful to what the High Commissioner had suggested to the social partners during their meetings which lasted more than a year. Several of them had already been made public, October 10, 2018, during the first series of arbitrations. They must serve as a basis for the government to develop its bill. The calendar is still unclear: the text should be presented to the Council of Ministers by the end of the year, then debated in Parliament in early 2020, before or after the municipal elections.
Mr Delevoye has finally obtained from the executive he renounces, in the immediate future, to introduce savings measures in the Social Security Financing Bill (PLFSS) for 2020 which is to come under discussion at the 'autumn. In the immediate future, Mr Delevoye was to propose to the social partners to see each other as early as next week to set the timetable for the consultation, which will begin in September.
Details

Written by

American Review

Hits: 2668
Now that marijuana is recreationally legal in 11 states and medically legal in 33 states smoking has become mainstream. Individuals who smoke sometimes report paranoia while using the drug. Researchers are digging in to determine the likelihood of this result.
We have more light on the subject due to a study by Western University. Researchers decided to dig into psychological effects from tetrahydrocannabinol (THC). The study uncovered that THC can trigger highly divergent psychological reactions depending on what part of an individuals brain is sensitive to the drug.
The study used rats to find evidence of the psychological reactions to weed. The responses depended on which part of the brain was most sensitive. The front part of the brain would produce rewarding effects (for example feelings of relaxation and joy). The back of the brain would produce negative reactions (like paranoia or fear).
Read more about this study at https://news.westernu.ca/2019/07/why-marijuana-affects-different-people-differently/