The libra cryptocurrency, which is scheduled for launch in 2020, is creating distrust among regulators, central bankers and governments.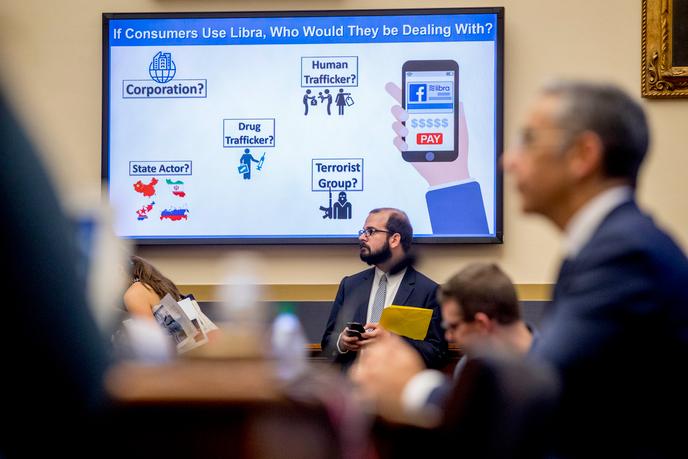 "Libra is in everyone's minds," the German Finance Minister, Olaf Scholz, told the press on Wednesday (17 July) at the meeting with his counterparts and G7 central bankers in Chantilly (Oise). The same day and the day before, the House of Representatives and the United States Senate had long audition David Marcus, the head of Facebook for this project of digital currency. After creating the surprise, the libra, whose launch is expected in 2020, seems almost unanimous against him, in the governments of the G7 who struggle to agree on the taxation of digital giants, as among Republicans and the American Democrats."Today, the conditions are not met for this currency as proposed by Facebook can be in place," said the Minister of Economy, Bruno Le Mayor, determined not to authorize a company private sector "to acquire a sovereign currency".
While they had let the other financial innovations (Apple pay, Paypal ...) of payment develop, while monitoring them, the big money of the G7 here changed philosophy: "None of the projects such as libra will be able to start before We have obtained clear answers, "asserts the governor of the Banque de France, François Villeroy de Galhau, calling for compliance with " the highest standards of regulation, especially in the fight against money laundering and consumer protection . "
Charged with steering a working group on the subject, the Frenchman Benoît Cœuré, member of the Executive Board of the European Central Bank (ECB), presented in Chantilly the first lines of a report expected in October. The Financial Stability Board, which brings together the major regulators of the planet, will then continue the reflection on the management of "stable corners", these digital currencies which, like libra, are based on a reserve of traditional currencies.