Details

Written by

ARO

Hits: 474
What was the is the top 25 most popular dog breeds? Here is a review of the most popular dog breeds, according to AKC registration statistics. The AKC only registers purebred dogs registry in the United States.
Retrievers (Labrador)                           
1
German Shepherd Dogs                              
2
Retrievers (Golden)                               
3
French Bulldogs                                   
4
Bulldogs                                          
5
Beagles                                           
6
Poodles                                           
7
Rottweilers                                       
8
Pointers (German Shorthaired)                     
9
Yorkshire Terriers                                
10
Boxers                                            
11
Dachshunds                                        
12
Pembroke Welsh Corgis                             
13
Siberian Huskies                                  
14
Australian Shepherds                              
15
Great Danes                                       
16
Doberman Pinschers                                
17
Cavalier King Charles Spaniels                    
18
Miniature Schnauzers                              
19
Shih Tzu                                          
20
Boston Terriers                                   
21
Bernese Mountain Dogs                             
22
Pomeranians                                       
23
Havanese                                          
24
Shetland Sheepdogs                                
25
Details

Hits: 684
Which cities in the Southeast get the most sunlight? According to the National Oceanic and Atmospheric Administration to determine the sunniest cities in the United States, below is the top 35 in the south.
(Rank) (City) (Annual % average possible sunshine)
1 KEY WEST, FL 76%
2 NORTH LITTLE ROCK, AR 72%
3 MIAMI, FL 70%
4 APALACHICOLA, FL 66%
5 MACON, GA 66%
6 TAMPA, FL 66%
7 COLUMBIA, SC 64%
8 MEMPHIS, TN 64%
8 SHREVEPORT, LA 64%
10 TUPELO, MS 64%
11 CHARLESTON AP, SC 63%
12 JACKSONVILLE, FL 63%
13 RICHMOND, VA 63%
14 WILMINGTON, NC 63%
15 CHARLOTTE, NC 62%
16 LITTLE ROCK, AR 62%
17 SAVANNAH, GA 62%
18 FORT SMITH, AR 61%
19 JACKSON, MS 61%
20 ATLANTA, GA 60%
21 CAPE HATTERAS, NC 60%
22 GREENSBORO-WNSTN-SALM, NC 60%
23 GREENVILLE-SPARTANBURG AP, SC 60%
24 NORFOLK, VA 60%
25 PENSACOLA, FL 60%
26 ASHEVILLE, NC 59%
27 LYNCHBURG, VA 59%
28 BIRMINGHAM AP, AL 58%
29 MONTGOMERY, AL 58%
30 PADUCAH KY 58%
31 RALEIGH, NC 58%
32 BIRMINGHAM C.O., AL 57%
33 CHATTANOOGA, TN 57%
34 NEW ORLEANS, LA 57%
35 KNOXVILLE, TN 56%

Other notable cities: Louisville, KY at 56% and Nashville, TN, at 56%.
Details

Hits: 1155
The libra cryptocurrency, which is scheduled for launch in 2020, is creating distrust among regulators, central bankers and governments.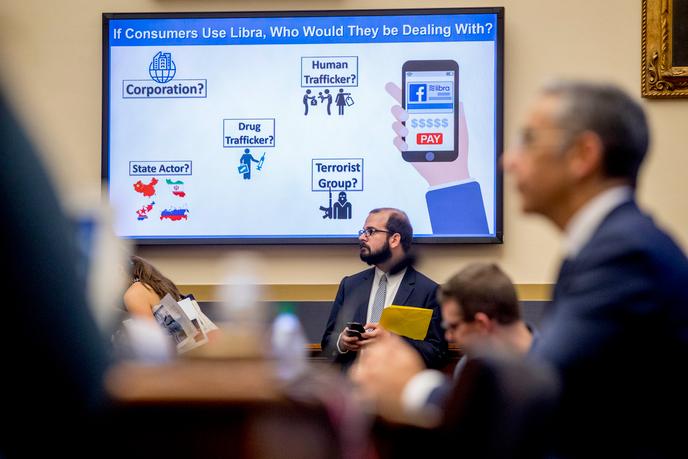 "Libra is in everyone's minds," the German Finance Minister, Olaf Scholz, told the press on Wednesday (17 July) at the meeting with his counterparts and G7 central bankers in Chantilly (Oise). The same day and the day before, the House of Representatives and the United States Senate had long audition David Marcus, the head of Facebook for this project of digital currency. After creating the surprise, the libra, whose launch is expected in 2020, seems almost unanimous against him, in the governments of the G7 who struggle to agree on the taxation of digital giants, as among Republicans and the American Democrats."Today, the conditions are not met for this currency as proposed by Facebook can be in place," said the Minister of Economy, Bruno Le Mayor, determined not to authorize a company private sector "to acquire a sovereign currency".
While they had let the other financial innovations (Apple pay, Paypal ...) of payment develop, while monitoring them, the big money of the G7 here changed philosophy: "None of the projects such as libra will be able to start before We have obtained clear answers, "asserts the governor of the Banque de France, François Villeroy de Galhau, calling for compliance with " the highest standards of regulation, especially in the fight against money laundering and consumer protection . "
Charged with steering a working group on the subject, the Frenchman Benoît Cœuré, member of the Executive Board of the European Central Bank (ECB), presented in Chantilly the first lines of a report expected in October. The Financial Stability Board, which brings together the major regulators of the planet, will then continue the reflection on the management of "stable corners", these digital currencies which, like libra, are based on a reserve of traditional currencies.
Details

Hits: 1264
Now Kevin Spacey is going through difficult times. A career once Oscar-winning actor went crash. And all because of the many accusations of Spacey in sexual harassment. However, only one of them flowed into the court case. And it was closed. 
According to legal documents, Cape County Attorney, Massachusetts Michael O'Keefe dismissed the case because of insufficient evidence. Recall, the 18-year-old young man sued the actor, accusing him of having drunk Kevin Spacey in 2016 in a restaurant on the island of Nantucket and started harassing him. The actor did not admit his guilt. According to foreign media reports, Mitchell Garabedian, the lawyer of the alleged victim, announced that the civil lawsuit he had filed with the Supreme Court of Nantucket was voluntarily rejected.
At the court hearings, it turned out that some of the messages and recordings that allegedly proved Spacey's guilt were removed from the young man's smartphone. This fact is considered a crime. Moreover, the injured party could not even produce a smartphone at the hearing. Lawyers said the phone just disappeared. Later, the plaintiff was called to testify, but he exercised the right to the fifth amendment to the US Constitution, which allows a person not to testify against himself. Thus the case was dismissed, and Kevin Spacey was dropped from all charges. 
Details

Written by

Andy Dichutt

Hits: 4471
Is Social Media Addictive?
Social Media is the drug of choice these days for many Americans. Just like other drugs, it comes with its share of negative side effects.
New Findings In Selfie Research
A new study from Penn State University suggests that the selfie has been linked to conditions of lowered self-esteem. Findings indicate that people viewing selfies consistently through social media, may find a declining in their overall sense of self worth.
On the flip side, people who post selfies frequently, do so with the intent of appearing to have a 'much better' time than they are actually having. Posting selfies led to maintaining, or small spikes in self-esteem.
A Balancing Act
Some believe that you should be tracking the selfies you view, so you can counter balance the ratio by posting more selfies. People with knowledge of the situation believe this tactic could be counterproductive, as it saturates social media with selfies.
Experts have pushed back on the idea of circulating more selfies on internet. Instead, experts believe some people need to simply 'grow up' and become 'an adult'.