Juror Leaks In Cosby Case
One deliberator in the Bill Cosby court case leaked that coming to a verdict was completely 'hopeless' from the beginning, as reported by NBC news. The juror who leaked the information remained anonymous.
The unidentified juror stated in an audio recording on WPXI-TV that, "My personal feeling is whatever the man (Cosby) did, he has already paid his price.. paid, suffered." The Juror went on to leak more information, claiming ten voted for conviction, while just two voted against conviction(NBC News).
Cosby Giving Sexual Abuse Prevention Speech
Cosby took to the offensive when his spokesman, Andrew Wyatt, announced his client's intentions to travel the country, educating youth about the dangers sexual assault.
From To Court Trial To The Campaign Trail
TMZ recently reported, "The comedian is planning a series of town halls this summer to educate young people about sexual assault.. More specifically, they say he's planning on teaching them how to look out for warning signs from potential victims and handle accusations that could follow."
Plenty Of Prior Experience
Racking up 50 sexual assault allegations over the years, Cosby knows a few things about handling accusations. This leaves many wondering, is this appropriate? Perhaps one day, but Cosby is theoretically still in the legal process. The only comparable event in recent history would be the O.J. Simpson 'If I did it' book release.
Bill Cosby Is 'Done', But Is He 'Finished'?
Furthermore, this case continues to parallel the Simpson case in various other ways. Cosby infused a racial element that looms over this case, this tactic has been eerily similar to that of O.J. The prosecution has also fumbled various aspects of the case. Since the inception of the trial, the American Review has been very insistent that Cosby's full acquittal is imminent.
Our nation is more divided than ever before. This has become a common theme in America. Some people believe division is caused by race, religion, gender, orientation, or even political affiliation. 

On a micro level we see democrat vs. republican, pro-choice vs. pro-life, and on, and on, and on. Researchers suggest that the divisions within this country are much more simple than they appear. 

On a macro level researchers seem to think that society naturally creates two categories of people. Alphas and betas. 

What is a beta? 

Beta's make up a majority of our population. Experts believe betas socially follow a passive life pattern. They often place priority on the opinions of others rather than themselves, as approval is the most important aspect in a beta's life. Beta's tend to be reluctant to participate in activities that require engagement, vulnerable, or daring situations. Beta's oftentimes chose to observe others engage in risk behaviors and instead imagine themselves in the place of others participating. 

Research has shown that beta's are less likely to receive an equal amount of pay in the work force compared to their alpha counterparts. In addition to these findings betas are more prone to health risks and depression. 

What is an Alpha? 

Alphas make up a minority of the population. They tend to favor controlling situations rather than delegating control to others. This group of society is considered to have a tendency towards participation rather than observation. Alphas have shown to be more physically fit and increased life expectancy. In addition alphas typically achieve more financial success and responsibility than betas. 

The most glaring difference between alphas and betas is the ability to follow through on commitments. Commonly, betas will appease others temporarily by cloaking their intentions. After a beta initially commits to an obligation, the beta will then neglect, or go back on their word. Researchers refer to this as the 'hangover effect'. The term was coined to compare what one might say at the bar, versus what they may do the next day. 

On the other hand, an Alpha will be more transparent in their intentions. In the world of an Alpha, his or her word is gospel and a strong backbone is mandatory. The alpha comes off as less compassionate, but in reality is more trustworthy and valuable to society. 

Are you an alpha or a beta?
Is Social Media Addictive?
Social Media is the drug of choice these days for many Americans. Just like other drugs, it comes with its share of negative side effects.
New Findings In Selfie Research
A new study from Penn State University suggests that the selfie has been linked to conditions of lowered self-esteem. Findings indicate that people viewing selfies consistently through social media, may find a declining in their overall sense of self worth.
On the flip side, people who post selfies frequently, do so with the intent of appearing to have a 'much better' time than they are actually having. Posting selfies led to maintaining, or small spikes in self-esteem.
A Balancing Act
Some believe that you should be tracking the selfies you view, so you can counter balance the ratio by posting more selfies. People with knowledge of the situation believe this tactic could be counterproductive, as it saturates social media with selfies.
Experts have pushed back on the idea of circulating more selfies on internet. Instead, experts believe some people need to simply 'grow up' and become 'an adult'.
Which cities in the Southeast get the most sunlight? According to the National Oceanic and Atmospheric Administration to determine the sunniest cities in the United States, below is the top 35 in the south.
(Rank) (City) (Annual % average possible sunshine)
1 KEY WEST, FL 76%
2 NORTH LITTLE ROCK, AR 72%
3 MIAMI, FL 70%
4 APALACHICOLA, FL 66%
5 MACON, GA 66%
6 TAMPA, FL 66%
7 COLUMBIA, SC 64%
8 MEMPHIS, TN 64%
8 SHREVEPORT, LA 64%
10 TUPELO, MS 64%
11 CHARLESTON AP, SC 63%
12 JACKSONVILLE, FL 63%
13 RICHMOND, VA 63%
14 WILMINGTON, NC 63%
15 CHARLOTTE, NC 62%
16 LITTLE ROCK, AR 62%
17 SAVANNAH, GA 62%
18 FORT SMITH, AR 61%
19 JACKSON, MS 61%
20 ATLANTA, GA 60%
21 CAPE HATTERAS, NC 60%
22 GREENSBORO-WNSTN-SALM, NC 60%
23 GREENVILLE-SPARTANBURG AP, SC 60%
24 NORFOLK, VA 60%
25 PENSACOLA, FL 60%
26 ASHEVILLE, NC 59%
27 LYNCHBURG, VA 59%
28 BIRMINGHAM AP, AL 58%
29 MONTGOMERY, AL 58%
30 PADUCAH KY 58%
31 RALEIGH, NC 58%
32 BIRMINGHAM C.O., AL 57%
33 CHATTANOOGA, TN 57%
34 NEW ORLEANS, LA 57%
35 KNOXVILLE, TN 56%

Other notable cities Louisville, KY at 56% and Nashville, TN, at 56%.
The application, free and developed in Russia, has become very popular in recent days thanks to its automatic retouching of photos, allowing to see with 60 years more.
Many celebrities, but also anonymous, lend themselves to the game to show what they could look like by being sixty years older. After the filter that made it possible to transform a boy into a girl, or conversely, proposed by Snapchat and popularized in the spring, here is the filter to get old, FaceApp, whose examples are spreading in recent days like wildfire on Instagram, Facebook and Twitter.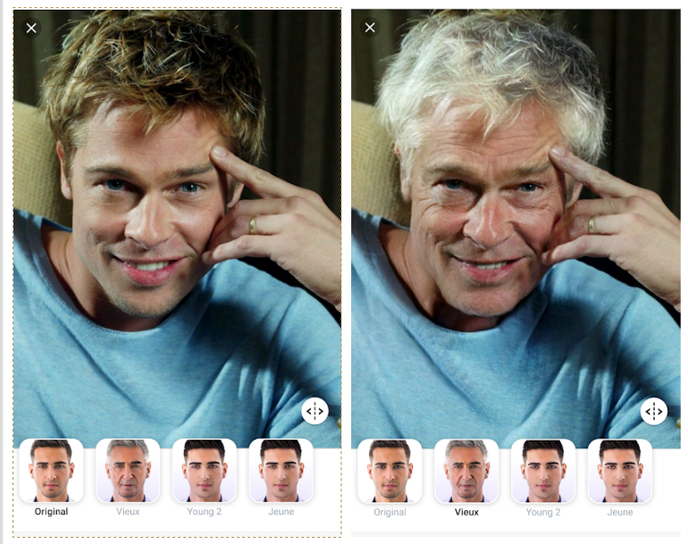 1 - What is it exactly?
This selfie filter that ages the face is offered by the application FaceApp, available on AppStore and PlayStore. The application was, notes The Huff Post, topping the rankings of the most downloaded applications on iPhone and Android.
FaceApp is not a new application. Developed in Russia by a small team based in St. Petersburg, it was released on January 2017. It already proposed a filter to get older, in addition to other filters that have also had some success, such as the one that allows adding a smile to a face ... The application has already sparked viral games, like to make their smile to old paintings. The very recent renewal of interest for FaceApp seems to start from a "FaceApp Challenge" fed by celebrities who, taking the game, have posted photos where they are aged.
FaceApp has also made itself known for having, the year of its launch, caused a scandal: with its filter to make people more "hot", the application sometimes whitening the skin of black people on their selfies. Accused of racism, those responsible for the application eventually removed the filter in question.
2 - How does the app work?
FaceApp is a confusing simplicity, with a basic interface to retouch selfies through pre-established filters, then save them or share them in other applications. If FaceApp is available for free, then you have to pay to use it without advertising and have all the filters offered (about 20 euros per year, or 4 euros for a month). But the basic filters, like the one that allows you to age your face, are free.
To work, FaceApp applies automatic changes to the photo of a face. These images can be taken with the selfie function of the application, be found in the photo gallery of the user's smartphone (if he has given access) or by searching on the Internet, thanks to an engine integrated search, which also offers to find faces of celebrities.
Unlike what has been said, FaceApp online does not automatically download all your photos to its servers without you knowing it. It does not have access to all the photos of a smartphone without the explicit consent of the user, according to specialized sites TechCrunch and The Next Web who dissected the operation.
On the other hand, once the photo to modify selected, FaceApp loads it on its remote servers. It is then in its cloud environment that FaceApp makes the desired changes to the face - which is why the application does not work if you do not have a 3G or Wi-Fi network.
These touch-ups take place thanks to the software of "automatic learning", which works thanks to technologies, qualified a little pompously of "artificial intelligence". To sum up more prosaically: from the many images compared and modified by FaceApp software in the past, they have learned to reproduce similar changes in the photos you send him and to adapt them to the best. The more retouched photos with FaceApp, the better the results will be in theory.
3 - What happens after my photos?
This is one of the main concerns, as some people have rightly read the terms of use of FaceApp face this sudden return of "  hype s". Dating from 2017, they are available in two separate pages, which are unfortunately not accessible from the application, according to our observation, under Android ( "Privacy Policy" FaceApp and "Terms of Use" ).
They are quite clear: by loading a photo and applying a filter through FaceApp to share it with your friends or on your social networks, you give in to the company managing the application (Wireless Lab OOO, located in Saint-Petersburg ) the possibility of modifying, reusing or subsequently exploiting the retouched picture in question.
When asked by the TechCrunch site, FaceApp, however, explained that "most of the images stored on our servers are deleted within 48 hours of being sent". The company also said that the 48-hour photo storage for "most" of them, or for some indeterminate time, was done through remote servers located outside Russia, using  Amazon's cloud infrastructure (AWS) and Google.
Still, in absolute terms, the images stored by FaceApp can be used by Wireless Lab OOO to train its software for automatic retouching or build databases with faces of its users. Or, to promote FaceApp from your retouched photos, if ever its employees choose it.